I discovered The Face Shop Ink Lasting Primer by accident. I had ordered another primer from The Face Shop which I'd used before. But that range was discontinued, and so I was sent their newest range of primers instead, The Face Shop Ink Lasting Primer. What luck!
Of all the primers I've used before, I've noticed yeah, they were okay but none of them actually worked very well for me. I was looking for a makeup base that would cover pores and uneven skin tone for a smooth, even finish. And this one, The Face Shop Ink Lasting Primer, really does the job well.
This primer has a gel-like consistency which I wasn't expecting. It contains prune extract and rose flower oil which gives your face that moisturizing and silky finish. The product feels smooth as it glides across your skin and covers over your blemishes, fine lines, pores and uneven skin tones. Where the pores are more noticeable, I would simply apply another layer over the area.
It comes conveniently in a pump bottle which makes it easy to control the amount of product you need. What's also great about The Face Shop Ink Lasting Primer is that it controls sebum while maintaining moisture so your skin doesn't feel dry or cakey. I find that makeup lasts and stays looking fresh longer on days when I use this primer.
The fact that the product itself is transparent means there's zero chance of it leaving an unsightly white cast after you apply it. It sinks right in and is ready for the next step in your makeup routine. Am I happy I came across The Face Shop Ink Lasting Primer? You betcha! I'm loving it because like I said, it looks and feels great 😀 .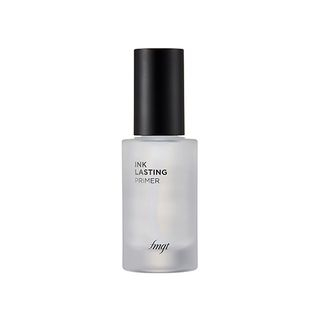 THE FACE SHOP – Ink Lasting Primer (30ml)
[The Usual Disclaimer] The above product was purchased with my own money. The opinions expressed here are my honest views after using the product for some time. However, due to everyone's skin and skin condition being different, this product may work differently for you. So you're advised to do your research and use your own judgement. All copyright of content and images in this post are reserved and belong strictly to me.