Review: #Klairs – Freshly Juiced Vitamin Drop
We're all aware of the wonders Vitamin C can do for our skin. I've graduated from eating, drinking, and popping Vitamin C as a supplement to applying it directly on my face. Hello, Klairs Freshly Juiced Vitamin Drop!
Initially I was a little confused by the name Klairs Freshly Juiced Vitamin Drop. I wondered if it was an ampoule or an oil, and where in the Korean multi-step skincare routine this Freshly Juiced Vitamin Drop would fit in.
Well, Klairs Freshly Juiced Vitamin Drop is, in fact, a pure Vitamin C serum and it's a powerhouse of pure ascorbic acid, citron extract, broccoli and organic centella extract to give tired skin a boost. These ingredients work together to get rid of dead skin, saggy pores and dull skin tone, and to reduce skin blemishes and other issues for better skin texture.
Klairs Freshly Juiced Vitamin Drop comes in a bottle with a dropper which is an easy and hygienic way of dispensing the product. I also love that the serum is fragrance-free which is great for those with sensitive skin like me.
The consistency of the serum is pretty thick and has a slightly oily feel to it. Even then, it's easy to apply and doesn't feel heavy or sticky. Instead it absorbs very quickly into your skin and feels very nourishing.
After using Klairs Freshly Juiced Vitamin Drop, I must say that it does make your skin feel much smoother, brighter and more moisturized. I'm about three-quarters way into my first bottle and already I'm planning to buy a second bottle. Yes, I honestly do think it's that good.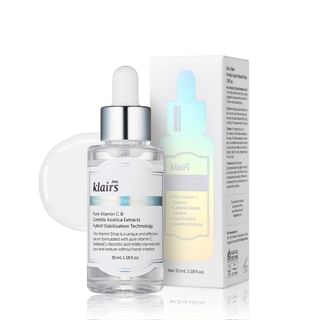 Klairs – Freshly Juiced Vitamin Drop (35ml)
[The Usual Disclaimer] The above product was purchased with my own money. The opinions expressed here are my honest views after using the product for some time. However, due to everyone's skin condition being different, this product may or may not work for you as it did for me. So you're advised to do your research and use your own judgement. All copyright of content and images in this post are reserved and belong strictly to me.